Sports Injury Treatment at Our Cincinnati Chiropractic Clinic
Sports can be rough and knowing you have a chiropractic care Cincinnati resource can provide pain relief for sports injuries, shin splints, strains, sprains, arthritis, headaches and more. Getting chiropractic care from a professional can provide benefits to strengthen areas that will help in the prevention of further injury.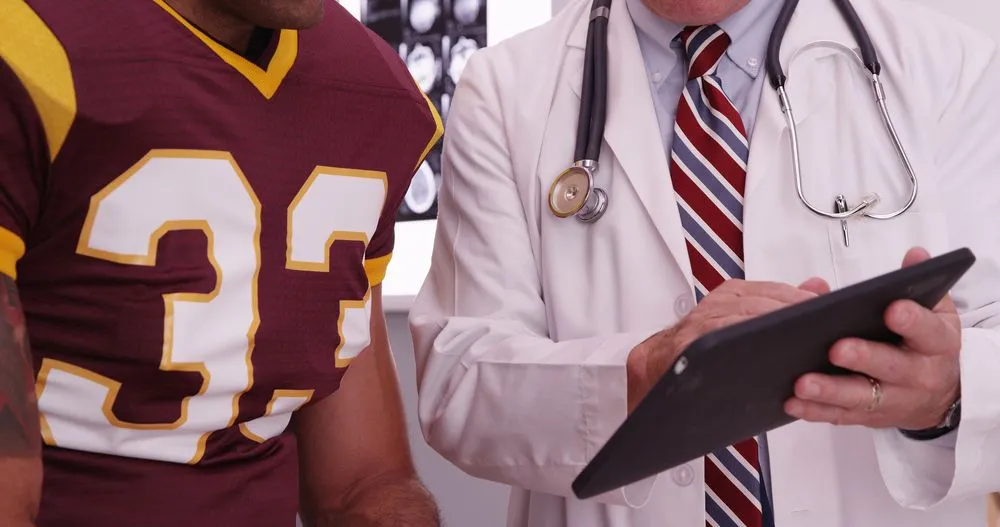 Common Sports Injuries
Wear, tear and strain on the body often result in injuries that need medical attention. Without proper care, injuries can become worse over time. Athletes experience a number of common injuries, including:
Hamstring injuries
Knee injuries that involve the PCL, ACL or meniscus
Shoulder separations
Shin splints
Calf muscle injuries
Groin pulls
Get help from a Chiropractor for Athletes
Sports injuries occur in amateurs and professional athletes. Dr. Limle is a well-known and respected chiropractor in Cincinnati and has operated as the official chiropractor for the Cincinnati Cyclones hockey team from 2016-18. He has provided care and sports injury treatment in Cincinnati for countless athletes including over 100 NFL players, including very many on the Cincinnati Bengals.
Services at Our Chiropractic Clinic
We offer a variety of services and treatments at our office that will help avoid these types of injuries. A good proactive solution is including a regimen of chiropractic and physiotherapy treatments to keep the body at pre-injury levels, helping heal the nervous and musculoskeletal systems. These treatments may include massage therapy, wellness and nutritional counseling, chiropractic care, acupuncture, spinal decompression therapy, custom orthotics, custom performance enhancement programs and other non-invasive procedures and techniques that do not require the use of medication.
These treatments usually require multiple visits to a chiropractor depending on the degree of healing that needs to take place. Once the treatment is completed, patients are still under observation to make sure they do not relapse.
Contact Us Today for Sports Treatment
We work with insurance companies, personal injury attorneys and workers' compensation advocates to ensure our clients get what they need. We accept most major medical insurances, Medicare, personal injury, and self-payment. If you're suffering from a sports injury and need to address your pain, the team at Cincinnati Chiropractic can help.
Call us at (513) 661-6666 to schedule an in-depth consultation or appointment at the chiropractic clinic Cincinnati residents turn to now!